Madaxweynaha Soomaaliya Maxamed Cabdullaahi Maxamed "Farmaajo" iyo Ra'iisul wasaarihiisa Xasan Cali Kheyre ayaa u muuqda kuwo wajahaya culeysyo siyaasadeed iyo mid ammaan oo adag, taas oo aan hore loo filayn in ay ka hor imaan karto.
Dowladdan oo la doortay bishii February ee sanadkan waxa ay weli u baahan tahay dubbe lagu hoggaamiyo istiraatiijiyad cusub oo lagula dagaalamo dhaq dhaqaaqa islaamiyiinta mayalka adag ee Al Shabaab , sidoo kale dhismaha hey'adaha qaran ee wax soo saarkoodu xadidan yahay iyo dowlad dhexe oo baadi doon ugu jirta sharciyad (ION 1450). caqabadahaasi waxa ay walaac geliyeen bulshada caalamka.
Sida lagu daabacay mareegta faafisa wararka la xiriira Sirdoonka africaintelligence.com Reer galbeedku waxa ay ka cabsi qabaan in Muqdisho aanay xal u heli karin dhammaan arrimahaasi mar qura. Kulan bilowgii bishii July dhexmaray mas'uuliyiin ka kala socda Britain, Norway iyo Midowga Yurub, Kheyre wuxuu qiray inay ku adag tahay la dagaalanka musuq maasuqa iyo inuu horumariyo howlaha canshuur uruurinta guud ahaan dalka Soomaaliya, waxaana uu farta ku fiiqay qaar ka mid ah ganacsatada gudaha oo ay ku jiraan Ahmed Mohamed Yusuf, Guddoomiyaha Shirkadda Isgaarsiinta Hormuud, Mohamed Yusuf Ahmed Alore, Guddoomiyaha Salaam African Bank iyo Abdirashid Duale, Maamulaha Dahabshiil. waxa uu u arkayay inay joojin doonaan si loo dhaqaajiyo, loona xoojiyo awoodda dowladda, waayo taasi waxa uu nidaamka canshuuraha ka dhigayaa mid aad waxtar u leh.
Ra'iisul wasaaruhu waxa uu si lama filaan ah u sheegay in ganacsatada ay canshuur dheeraad ah ay siiyeen Al Shabaab, kana badan tan ay Xukuumadda Federaalka Soomaaliya ay ka qaaddo. waxaana uu u arkaa taageeridda qarsoon ee Ururka Al Shabaab in ay ka dhigan tahay qalqal gelinta deganaanshaha dowladda, hor istaageysana in sharcigu sarreeyo. taasi waxay keentay in ragga muuq-muuqda ee ganacsatada ay ka gaabiyaan bixinta xaqqa dowladdu ku leedahay.
Halkan hoose ka akhriso warbixinta ay daabacday Africanintelligency:-
Somali president Mohamed Farmajo Mohamed Farmajo and his prime minister, Hassan Ali Khaire Hassan Ali Khaire,
seem confronted by a whole range of complicated political and security dilemmas that they didn't initially expect to face. Formed in February, the government still needs to hammer out a clear-headed strategy to fight the Islamist fundamentalist movement AlShabaab Shabaab as well as to build the foundations of a nation with limited resources and a central government that's still in the quest for legitimacy (ION 1450). And those challenges give rise to concern in the international community.
The West fears Mogadishu won't be able to handle all the issues in one go. In a meeting in early July with officials from Britain, Norway and the European Union in Hargeisa, Khaire
admitted he found it highly complicated to fight against corruption and improve the country's tax receipts. He pointed the finger at certain local businessmen who included Ahmed Mohamed Yusuf Ahmed Mohamed Yusuf, boss of the Hormuud Hormuud telecommunications concern; Mohamed Yusuf Ahmed Alore Mohamed Yusuf Ahmed Alore, chief of Salaam African Bank Salaam African Bank, and .
Abdirashid Duale Abdirashid Duale, manager of Dahabshiil Dahabshiil. He felt they were applying a brake to moves to beef up the government's capacity because doing so would make the tax system more efficient. In his outburst, the prime minister claimed the businessmen paid more taxes to Al Shabaab than to Somalia's federal government. He saw that as tacit backing for Al Shabaab which, in working to destabilize the government,prevented it from establishing the rule of law. That, in turn, allowed the tycoons toduck out of paying their due to the state.
Washington has thrown its backing behind the Somali government in its bid to divide the
Somali president Mohamed Abdullahi Mohamed Farmajo got the Intergovernmental.
A report on "good governance" has cast light on arrangements that largely deprive the central government of revenue from ports.
With Turkey poised to open a training camp for the Somali National Army (SNA) in Mogadishu the United Arab Emirates is equally building several military sites in Somalia.
The two countries are locked in a struggle for influence against.
Dhanka kale waxaa jiray Todobaadyo ka hor diidmo canshuureed oo ay sameeyeen ganacsato degan Bosaso,kuwaasoo ku andacoonayay in ay ku badan tahay canshuurta la saaray.
Dawlada Puntland ayaa caabshada Ganacsatada si adag uga hor timid waxayna sheegtay in canshuurta la saaray Ganacsatada ay tahay mid aad u yar marka loo eego dakhliga soo galaya ganacsatada.
Madaxweyne Gaas oo arintaas ka hadlay ayaa yiri""Qofka ganacsiga ku leh Bosaso amniga ku haysta doonaya in ganacsigiisu isaga kala goosho guud ahaan dalka waa inuu bixiyaa khidmadda ku waajibtay,".
Madaxweynaha ayaa Ganacsatada Bosaso sheegay in ay taageeraan kooxda Al Shabaab islamarkaana lacago baad ah waqti kasta ay bixiyaan, halka ay diidanyihiin mida wax loogu qabanayo ee dowladdu ka rabto"
"Waxaan ognahay oo aan idiin sheegaya marka kuwa intaas diidan oo dowladnimada yacni shidaynaya in qaarkood ay lacag siiyaan Al Shabaab," Ayuu yiri Gaas.
Madaxweynaha ayaa hadalkiisa raacshay, "Inta loo yimaado xitaa lama baryo oo lama dhaho bixiya canshuurta ee taleefon ayaan loo soo diraa taleefon ayayna ku bixiyaa."
Halkan hoose ka akhriso warbixinta Bosaso:-
In a surprise move, Puntland President, Abdiweli Mohamed Ali known as Gaas told reporters on Friday that his government is aware of some of the business people in Puntland paying to tax to Al Shabab, while refuting the government tax.
Speaking on the taxation dispute, the Puntland president said that it was astonishing act to see business in the port town of Bosaso, refusing to pay tax, which is legal and been approved by the government.
President Gaas said that they are aware of business people sending money to Al Shabab through mobile money transfer in fear for their lives. He urged the people to pay the taxes to the government, which is even paid by the soldiers fighting against the enemy.
"The soldier who recieves 70 USD pays the tax, an a businessman is refusing to pay it" Puntland President, Abdiweli Gaas said, "That's impossible, ensuring the security comes after tax payment."
There are important projects going on in the town of Bosaso including building important roads and can not be successfully completed without the public support, Mr. Gaas added.
The dispute follows after the Shabab, a militant group affiliated to Alqaeda that control some parts of Central Somalia, warned against using the Somali shillings, which many believe to have been printed in Puntland. Puntand authorities blamed for the denial of the Somali Shillings to the Al Shabab. The towns affected by order include the regional capital of Hiiraan, where business from Bosaso is directly linked.
Many analysts believe that the Shabab are imposing indirect sanctions against the Puntland authorities, after its believed to have forced business community there not to pay tax to the government, while the group forced the people in Central Somalia not use Somali shillings which is believed to have been printed by the Puntland government.
Last week, some of the business people in Mogadishub speak out against the Shabab taxation, saying that they fear for their lives and need urgent protection, should they try to refuse the Shabab taxation. However, the Federal Government did not officially comment on the matter.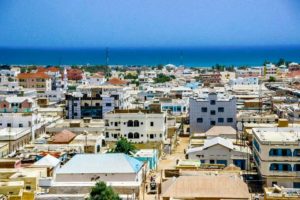 Guud ahaan Soomaaliya ayaa Ganacsatadu waxay siiyaan kooxaha argagixisada ah lacag baad ah oo ay ku sheegaan Sako,taasoo ay ku bixiyaan laba waji oo kala ah
A.Mid baqdin ku salaysan
B.Mid ku salaysan ujeedo canshuur ka carar ah ,iyagoo ku bulaalay casnhuur la'aanta ka jirta Somaliya 26-kii sano ee lasoo dhaafay.
Dawladnimada Soomaaliya ayaa ilaa iyo hada daala dhacaysa waxaana hada muuqata rajo soo kabasho ah,iyadoo dadka somaliyed ay hami fara badan uqabeen Dawlada Madaxweyne Farmaajo hogaaminayo in ay noqoto mid si dhab ah usoo celin doonta dawladnimada Somaliya.